Algolia ecommerce Search and Discovery
Accelerate conversions, Increase engagement, Build customer loyalty
Create a personalized ecommerce site Search and Discovery experiences that shoppers love.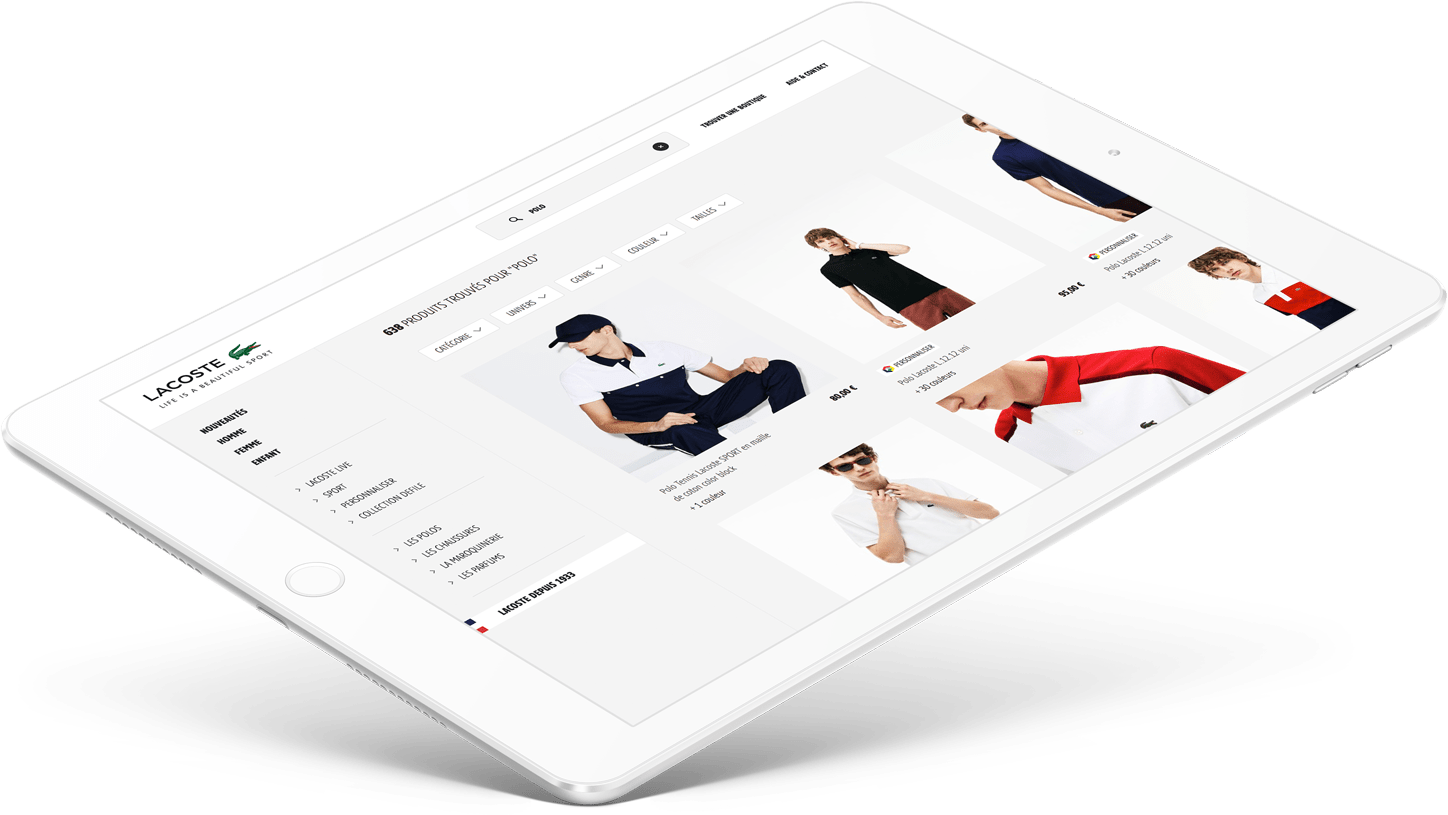 Shoppers expectations are higher than ever
A user will abandon a bad site for competitors after 2 to 3 seconds. The key lies in how quickly users find the product they desire: the less effort it takes to find the right product, the higher the conversion rates leading to more revenue, engagement and retention.
They choose Algolia


With a dynamic UX, Lacoste balances developer and business goals
+150%search use

+314% on mobile

+37%conversion rate

+62% on mobile
"Algolia is a critical part of the navigation experience on Lacoste platforms globally. Not only does it provide the stellar user experience Lacoste is known for, but it more than doubled our global sales."
Algolia impacts every point of the ecommerce journey
Deliver personalized shopper experiences
Use your data to serve your customers the right products based on purchase history, demographics and more.
Improve efficiency with built-in merchandising and business logic
Easily fine-tune the products ranking and create search merchandising rules from your Algolia dashboard.
Understand your customers with powerful Analytics
Use search insights to improve your product catalog and SEO strategy, and fine-tune your search relevance.
Continuously optimize for performance
Uncover the best performing relevance strategy by running controlled experiments in a few clicks.
Increase engagement and drive loyalty through relevant content
Integrate content from across your online properties, such as blog posts, FAQs, user generated content and product catalogues into a single, unified experience.
Decathlon Singapore: Driving 50% higher conversion rate with omnichannel, personalized search
+0.6points ofconversion rate

1.8%"no result rate"drop from 5% to 1.8%

36%increase inclick through rate

50%increase inconversion rate
"Algolia represents a real step forward in the digital era for Decathlon Singapore"
Company profile
Use case:

Ecommerce

HQ:

France

Number of locations:

1520 in 52 countries
Leverage your product reviews to increase sales
+92%of consumers trust recommendations from others—even people they don't know—over branded content.

+93%of consumers read product reviews before making purchase.

+50%of shoppers under 50 almost always read online reviews before purchasing a product for the first time.